Online & Blended Learning Classroom Course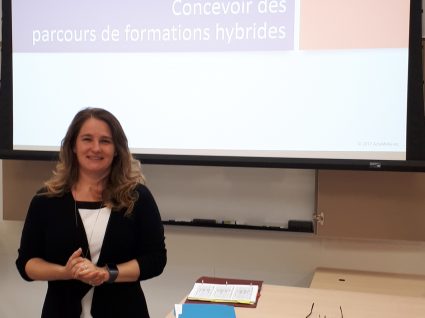 Ten years ago, I looked for a good course on how to design online courses and I could not find one.
So, after some years of experience and a master's in education, I decided to create one myself!
Organizations want to include more and more online courses to their training programs, but not all instructional designers know how to design efficient online and blended programs. We developed a 3-day course to help new and seasoned designers create engaging training programs that promote the transfer of learning in the workplace.
Basing the course on what learners must know instead of on what learners must do in the workplace
Basing the course on badly written learning objective
Using click and read pages, thinking they are interactive activities
Creating learning activities that are not related to the learning objectives
Writing questions that are too easy

 

Adding an online component to a classroom course, instead of redesigning the course
And more…
Our course is very hands-on and promotes the competency-based approach. For each design task, we start by reviewing with the class what they know about it, we supplement the knowledge or correct false ideas and then we practise what we've learned, ideally on a real project they have brought to class.
Throughout the course, we cover the main tasks required by the design of an online course or a hybrid program:
Analyze learning needs
Write learning objectives
Create a hybrid program or an online course architecture
Write a storyboard for an online course
Create assessment tools
Successfully manage an online course project
We adjust all private courses to the client's context, integrating their processes and tools into what we teach. That way, participants can really make the connection between the course content and activities and their day-to-day job, paving the way for the transfer of learning from the classroom to the workplace.
Would you like to start a project with us?
No organization or project is too small or too big. Just contact us and we'll help you.